NEW YORK, NY – When I heard that the new Brooklyn Dumpling Shop outfitted with kiosks and automated systems in the East Village was attracting lines down the block, I decided to check out this microcosm and model for telecom retail.
What I learned is that telecom retail has a unique opportunity to leverage technology from the restaurant industry to create an exciting experience in the store. This can turn shoppers into defacto brand ambassadors and influencers – for free.
My quest for dumplings and insights started with an innocent request to my husband that we venture out for dumplings. His interest was the dumplings, of course, but mine was the use of kiosks beyond bill payment, which is how kiosks are largely used these days in telecom retail. B2B Soft is a proponent of self-serve kiosks, and vending and locker stations using QR codes for the quick, touchless experience, so this seemed like a relevant spot to hit on a balmy Tuesday night.
Ordering and Becoming an Influencer – All in one
The dumpling shop had attracted a lot of attention both in print and online because it was using kiosks and other automated systems. They were in the spirit of the automats of the past, and a black and white image of woman leaning in to get her food from a small locker paid homage to that on the wall. But these lockers were updated for the 21st century, much larger than sandwich size, emblazoned with big numbers, gleaming with red and bright blue lights and computer controlled.
We entered the store, which was crowded, and ordered a few things on the kiosk. A receipt popped out. When our meal was ready ready, one of the roaming staff called out our name. My husband scanned his ticket at an optical reader and his locker opened on its own to reveal our food. He took it out. Then it closed by itself.
As he grabbed our food, I was there, taking pictures, which I promptly posted to Instagram. I hadn't signed up to be an influencer, or free promoter of the dumpling shop, but the cool technology had me hooked. Telecom retail has the same opportunity to entice consumers with a fun technology. The sooner they do, the sooner the "free staff" – that is the influencers – will come.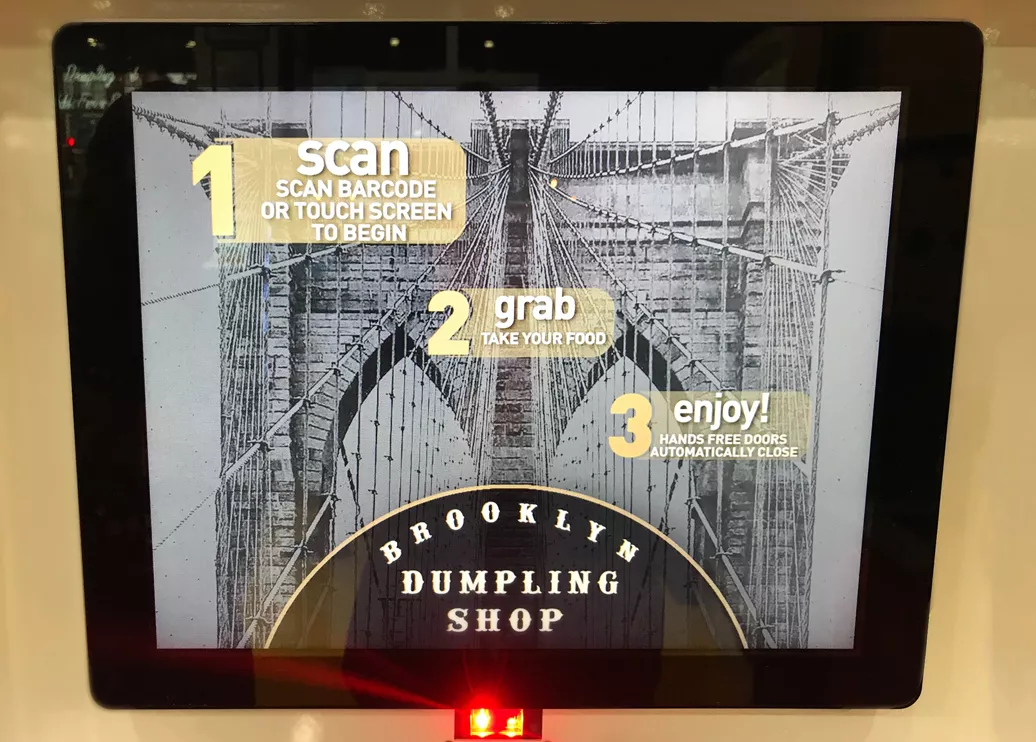 Dumplings, Phones, Accessories & Kiosks
I remained inside, talking with staff who told me people "definitely love the technology, especially the lockers opening and closing by themselves." Outside at a table, my husband was approached by a man asking if he enjoyed the Asian spicy coleslaw (He did.). The man turned out to be the owner and when I caught up with him, he said they had sold 25,000 dumplings in the first five days. They only had 50% of the menu in place, focusing on the 15 most popular items, and they were selling 5,000 to 6,000 dumplings a day (the machines they have can make thousands of dumplings an hour).
A dumpling isn't a phone or an accessory, but the idea of making the experience as fresh and novel as possible to spur sales seems to be one that telecom retail could exploit further than it has. What if a telecom retail store created an entire experience using kiosks and automated systems that engaged and educated consumers while sparking purchases? How might that spread? For the dumpling folks, they have already sold 139 franchises and will be going up to 500 by the end of the year, said Brooklyn Dumpling Shop principal Stratis Morfogen.
"Whoever is not embracing technology in today's day as we have driverless cars is really missing the boat," Morfogen said. "To me, why do I need cashiers? Why do I need the logistical staff to give out packages? Why can't everything be controlled from someone's phone? It just makes sense to me."
He said the next evolution is more staff, even more dumplings, 24/7 hours, and a scanner over the door so that consumers can grab dumplings and their purchase will be automatically charged to their credit card on the way out.
"That's where we're going—everything is mobile, everything is fast, everything is the consumer should do it on their time, not our time," Morfogen said.
The possibilities for telecom retail abound, as they sell a product that can control it all—the phone.