Direct Retail Suite
Streamline

operations for

your direct retail stores
Free your reps from the register with our POS system, enabling more personal, engaging sales. This rep-centric environment enables faster transaction processing.
Customers Who Use Our Direct Retail Solutions
Benefits
Hassle Free POS Integration & Compliance
Sales Rep Centric


Faster sales, more satisfied customers
Platform Agnostic and

Tablet Ready


Equip your reps on the sales floor with no special equipment required
Creates a Dynamic "App Store"


Reps access everything they need on one screen
Make the rep
experience easy
Give reps an edge in making the sale. By integrating our POS into your ecosystem, reps no longer have to learn multiple systems to make customer transactions. This reduces errors that add costs to your operations. Our POS can help reps focus on the customer rather than on the technology.
Tablets don't get
in the way
Our solutions are indifferent with regard to OS platforms. They come with full functionalities on a tablet. The tablet lets the rep move freely in the store, engaging customers. Virtually any tablet will work with our solutions. This extends the current useful life of your technology.
Seamless integration
of your

sales flows

Seamlessly integrate your bill payment and activation flows into our POS using your own or third party apps. This saves precious time during transaction processing and makes it easier for your reps to operate the system quickly and smoothly.
Compliance meeting today's standards
B2B Soft undergoes regular certification of its internal controls, which is conducted in accordance with the guidelines established by AICPA for SOC2. B2B Soft also maintains PCI and EMV compliance.
Features
Features
POS
Open/ Close Day
Reconcile cash for each register daily with optional blind mode available.
Accessory Sales
Tender payment for quick non-activation sales in seconds.
Activation and Bill Payment Integration Capabilities
Integrate with your activation and bill payment systems or use our configurable activation product, Guided Sales Flow.
Returns and Exchanges
Process returns and exchanges based on your rules, including RMA information.
Manager Override
Give store managers the ability to securely approve discounts and other requests, whether in the store or remote.
Coupons and Discounts
Issue and accept coupons as well as discounts and promotions, whether they are integrated and serialized or not.
Sales Quote
Use our intelligent sales quote capabilities to eliminate the risk of burnt phones; provide customers with an accurate account of their activation order, including promotions and discounts; and verify service and port eligibility; report on the amount due today and on a monthly basis; and convert quote to a sale, print/email the quote, or save it for later.
Sales Rep Commission Splits
Share individual commissions across multiple sales representatives.
App Store / Sales SDK
Create an app for our POS and integrate it into the POS App screen as a button; and launch app as app content and post orders into the shopping cart.
STORE Inventory Management
Serialized / Non-Serialized Devices and Accessories
Track inventory by store location for serialized and non-serialized devices and accessories; and track units on a per vendor basis.
Inventory Receiving
Add items into inventory with a receipt or a purchase order; Load POs from vendors via our direct PO Push integration services.
Store Transfers
Move inventory from store to store, with an accurate account of items and serial numbers in-transit.
Returns Management (RMA)
Manage serialized and non-serialized returns in configurable bins; Ensure that all items are returned to vendors on-time.
Physical Inventory Counting
Conduct full or partial inventory audits for all item types, including serialized and non-serialized items with an optional blind mode.
Inventory Adjustment
Update inventory as needed with audit and control.
Bin Management
Configure inventory bins to best suit your business operations.
OPERATIONAL REPORTING
Operational Sales and Inventory Reports
Access real-time sales and inventory data; and enhance the efficiency of multi-store management.
Configurable Dashboards
Give each management the ability to focus on their most important goals and objectives in real-time with adjustable KPIs and metrics.
Out of the Box Style Reporting
Access preset reports with one-click; and configure individual reports by employee.
Automated Subscription Management
Preset your most important reports and data feeds for specific individuals and times–"set it and forget it."
USER MANAGEMENT
Access Control Management
Grant the right level of access to the right team members with robust role-based permissions.
Product Management
Authorize access to manage products by individual stores, or centralize and lockdown catalogs; organize catalogs by departments and categories, price levels and costs; and track catalogs by vendors.
Location Management
Setup and manage all store locations, including addresses, time zones, contact information and business hours.
Configuration Management
Control the interaction of numerous parameters throughout the system, including displays, required values, alerts and notifications–you are in the driver's seat.
STORE OPERATIONS
Employee Time / Attendance and Scheduling
Use our template based scheduling tool to manage your teams' work week so that your best performers are scheduled at the best times; eliminate holes in your schedule; plan your employee budget; and track employee clock-in and clock-out inside the POS and compare actual data to scheduled data.
Sales Rep Performance Management
Track and monitor individual and team performance using KPIs and scorecards.
Upsell Companion
Leverage our machine learning technology to capitalize on suggested selling opportunities at various stages of the activation and payment processes.
Alerting
Alert specified parties about important events.
Prospect Engagement
Use our customized prospecting tools, including apps triggered by mobile device geo-fencing and QR scanning, to pre-qualify prospects.
BOPUIS (Buy Online, Pick Up In Store)
Incorporate an omni-channel sales experience that includes customers purchasing devices online and picking them up in store.
Incorporate B2B Soft's Direct Retail Solution into
Carrier Ecosystem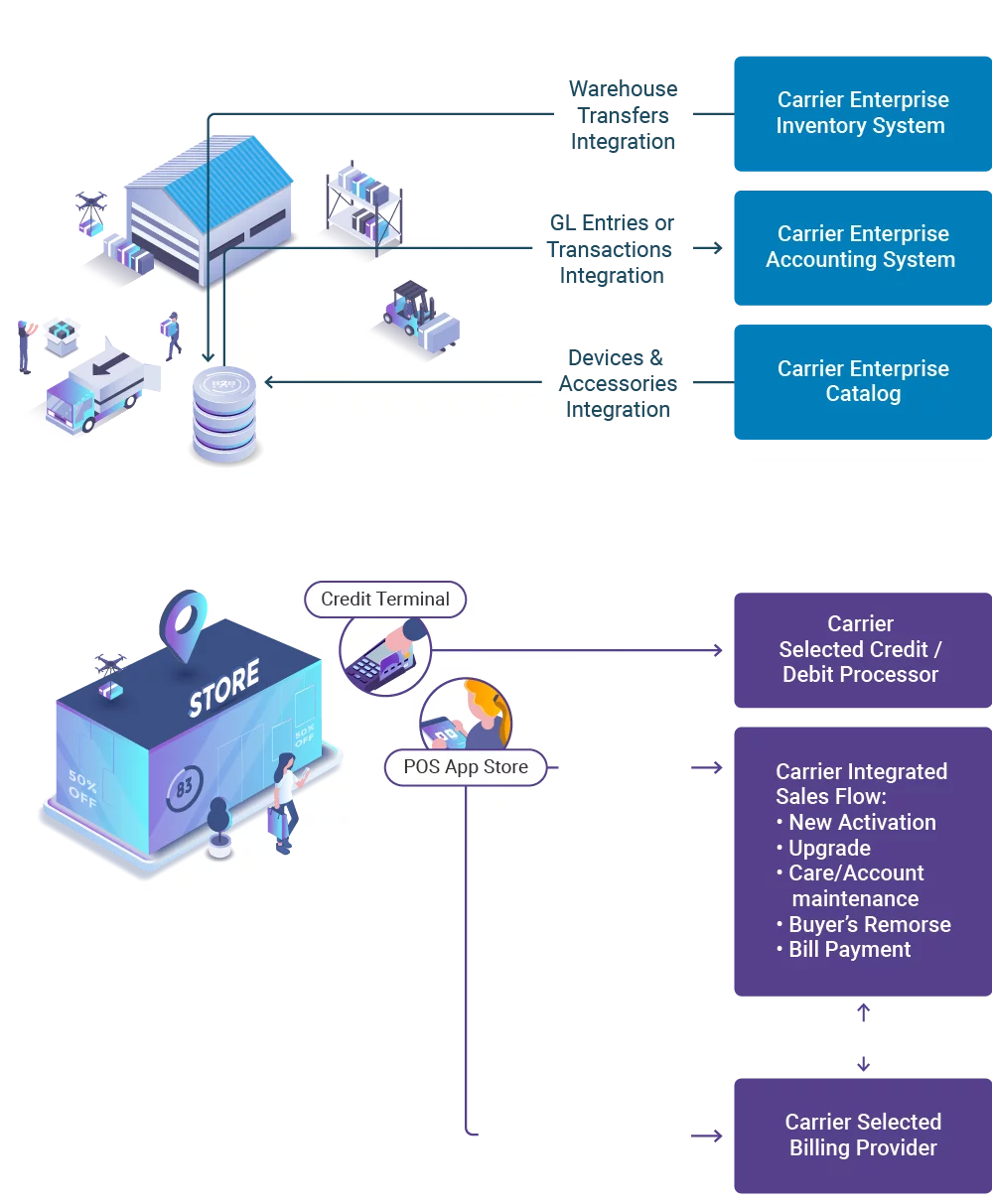 With our microservice-based solutions, B2B Soft can scale with customer needs.
Cutting Edge Retail POS Stations
B2B Soft is a solution provider and can consult on hardware choices.
We can help you assemble the optimal POS solution for your ecosystem.
The Sunmi "All In One" POS Station
Boost interaction between customers and reps
Dual touch screen design is a great sales tool of this countertop self-service POS station.
Poynt Wireless POS
Mobilize your sales force
This wireless handheld POS device offers express accessory sales and bill payments. It's superior to tablet-based POS systems.
Elo PayPoint Plus for iPad
Lock your iPad-based POS
Docking station securely extends the range of your sales activities. Everything you need is built into the base.
Launched POS and integrated flow at GCI Retail Stores
We integrated the retail flow and improved the customer experience at all of GCI's retail locations.
Read more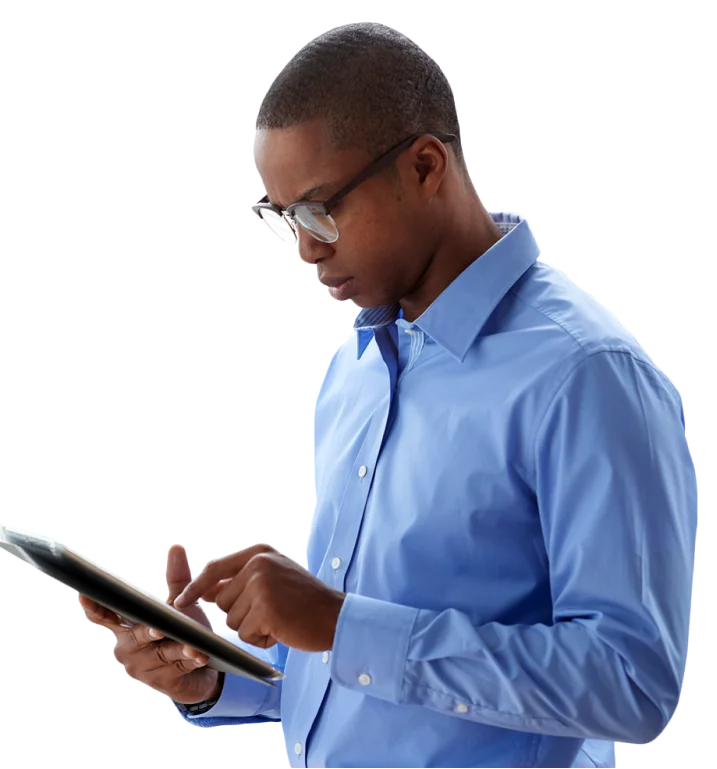 Let's
Connect
We're here to help
you with your
business challenges.